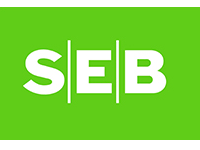 SEB Finland is a bank established back in the year 1999 offering a full range of payment cards services to both individuals and businesses.
Тhe bank has much participation in deposits guarantee schemes in Sweden covering up to more than 100,000 EUR as per very bank depositor.
At the bank's branches are available comprehensive services inclusive of advisers, much investments on bond where the securities are the care to the bank's dealings.
These activities have seen Skandinaviska Enskilda Banken (SEB) Finland rise to a global scene by big-wig investors hailing from the developed nations.
With this bank's diversity, it holds around 17,000 employees whereby they hail from distinct nations around its branches.
Forex Bank Finland Services
Private Banking
Mutual Funds
Financial Strategy offering
website: seb.fi
Skandinaviska Enskilda Banken (SEB) Finland Main Contacts
Phone: +358961628000 Fax: 09 171 056 E-mail: firstname.lastname@seb.fi
Skandinaviska Enskilda Banken (SEB) Finland Head Office Address
Eteläesplanadi 18,
00130 Helsinki, Finland

Postal address: PL 630, 00101 Helsinki