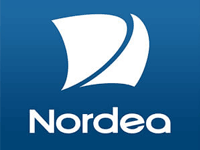 Nordea bank is a subsidiary of the Swedish-based Nordea Group. Its headquarters are in Helsinki.
Nordea Bank Finland

,
The bank was established as the result of mergers and acquisitions of Merita Bank in Finland Norwich, Denmark, and Sweden, Unibank, Kreditkassen, and Nordbanken between 1997 and 2007.
The Nordea bank's branches are in Helsinki surroundings and City Centre, South-Eastern Finland, Ostrobothnia, Northern Finland, Sata-Häme, Savo-Karelia, Uusimaa and Capital Area. The company has over 29,000 employees.
Nordea Bank Finland Services
Online and mobile services
Accounts and payments
Credit and debit cards
Loans and consumer credit
Savings and investments
Insurance
Customer benefits
website: nordea.fi
Nordea Bank Finland

,
Nordea Bank Finland Main Contacts
Customer service Telephone: +358 200 3000 If your card is lost Telephone: +358 020 333
Nordea Bank Finland Head Office Address
Satamaradankatu 5,
00580 Helsinki, Finland

A list of bank's branches